Solenoid-operated pilot relief assemblage
Function
Normally Closed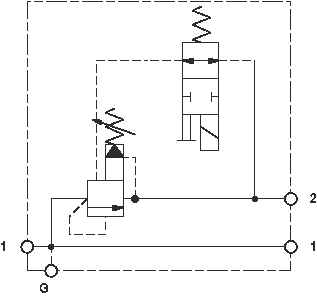 Normally Open
| | |
| --- | --- |
| Modifiers | Ports |
| 4, 4/S | Ports 1 & 2: 1" Code 62; Port G: 1/4" NPTF; |
| 4/M, 4/T | Ports 1 & 2: 1" Code 62; Port G: 1/4" BSPP; |
| 5, 5/S | Ports 1 & 2: 1 1/4" Code 62; Port G: 1/4" NPTF; |
| 5/M, 5/T | Ports 1 & 2: 1 1/4" Code 62; Port G: 1/4" BSPP; |
| D, D/S | Ports 1 & 2: 3/4" NPTF; Port G: 1/4" NPTF; |
| E, E/S | Ports 1 & 2: 1" NPTF; Port G: 1/4" NPTF; |
| F, F/S | Ports 1 & 2: 1 1/4" NPTF; Port G: 1/4" NPTF; |
| L, L/S | Ports 1 & 2: SAE 12; Port G: 1/4" NPTF; |
| M, M/S | Ports 1 & 2: SAE 16; Port G: 1/4" NPTF; |
| N, N/S | Ports 1 & 2: SAE 20; Port G: 1/4" NPTF; |
| P, P/S | Ports 1 & 2: 1" Code 61; Port G: 1/4" NPTF; |
| P/M, P/T | Ports 1 & 2: 1" Code 61; Port G: 1/4" BSPP; |
| Q, Q/S | Ports 1 & 2: 1 1/4" Code 61; Port G: 1/4" NPTF; |
| Q/M, Q/T | Ports 1 & 2: 1 1/4" Code 61; Port G: 1/4" BSPP; |
| W, W/S | Ports 1 & 2: 3/4" BSPP; Port G: 1/4" BSPP; |
| X, X/S | Ports 1 & 2: 1" BSPP; Port G: 1/4" BSPP; |
| Y, Y/S | Ports 1 & 2: 1 1/4" BSPP; Port G: 1/4" BSPP; |
Caractéristiques techniques
[ + ]
Cet ensemble réalise 2 fonctions: Il limite la pression en délestant du débit depuis l'orifice de pression (1) vers le réservoir (2) si la pression à l'orifice 1 excède le tarage de la valve. Et l'électrovalve permet une mise à vide qui fait chuter la pression à son plus bas niveau. Cet ensemble existe en version H normalement ouverte, en version C normalement fermée, et est également disponible avec la cavité de pilotage nue (sans valve). L'option "normalement ouvert" signifie que la pression est a son niveau de tarage, tant que l'électrovalve n'est pas excitée.
Cette valve ne convient pas aux applications de maintien de charge du fait des fuites autour du tiroir.
Toute contre-pression à l'orifice 2 (retour au réservoir) augmente directement la valeur de tarage de la valve dans un rapport de 1/1.
Cette valve convient pour la mise en charge et la mise à vide d'une pompe.
Les limiteurs de pression avec orifice de contrôle à distance ont la particularité de mettre le circuit progressivement en pression. La décompression est instantanée.
Now available with FLeX Series solenoid valves. See CONFIGURATION section, SOLENOID DESIGNATION to specify.
Type de Corps

Montage en ligne

Montage en ligne

Capacité

60 gpm

240 L/min.

Type de Taraudage des Trous de Fixation

3/8"-16UNC-2B in.

3/8"-16UNC-2B in.

Nombre de Trous de Fixation

2

2
Important: La pression maximum du système doit être considérée avec une grande attention. La limite de pression maximum à laquelle le bloc peut être utilisé dépend de la matière du bloc, alors que le type et la dimension des orifices sont secondaires. Les blocs forés fabriqués en aluminium ne sont pas prévus pour des pressions supérieures à 210 bar (3000 psi), et ce quelles que soient les types et dimensions des orifices spécifiés.
For detailed information regarding the cartridges contained in this assembly, click on the models codes shown in the Included Components tab.
Ressources Complémentaires
[ + ]
A la Une de Sun
Informations et Conseils Techniques Pour les Differentes Fonctions Hydrauliques SUN
Technical Information
infos pour les Bobines
[ + ]