Series 1 - T-16A cavity, Polyurethane cartridge seal kit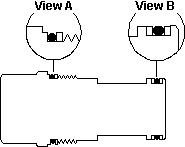 Sun offers replacement seal kits for all cartridge models. These kits include all of the external seals on the cartridge along with installation instructions. Seal kits are available in Buna-N and Viton for all models, along with EPDM and polyurethane for many models. Please note: Converting the external seals from one material to another does not ensure fluid compatibility with that material due to the existence of internal seals within the cartridge.
The shelf life for this cartridge seal kit is ten years from date of purchase. This date will be printed on the kit packaging.
Polyurethane seals have a higher tensile strength and are more abrasion/extrusion resistant and are well suited for high cycle and high pressure applications.
Series
3
Cartridge Thread

M36

M36

Valve Hex Size

1 1/4 in.

31,8 mm

Valve Installation Torque

150 - 160 lbf ft

203 - 217 Nm

Cavity
T-16A
What models can this kit be used with?
Install back-up rings and O-rings as shown in views.
When installing continuous back-up rings, use the same technique and the same care used to install O-rings.
When installing cartridge - be sure to torque to recommended value.
Additional Resources
[ + ]