Insert style, pressure compensated flow control
Capacity:
.5 gpm
2 L/min.
|
Cavity:
T-8DP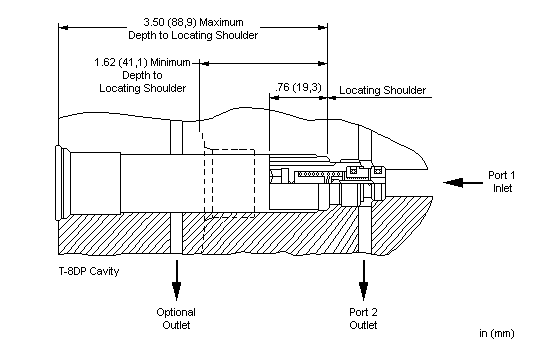 Fixed-orifice, pressure-compensated flow controls provide precise flow regulation for meter-in or meter-out applications where there may be wide pressure fluctuations. A variety of flow rates are available. The THRU port at the top of the valve can be used as the outlet with port 2 blocked. See cavity drawing for details.
The sharp-edged orifice design minimizes flow variations due to viscosity changes.
This valve is what we call an Insert style. It is meant to be buried in a manifold or actuator. The cavity drawing for the T-8DP cavity contains detailed information which should be studied closely when applying this valve.
Will accept 5000 psi (350 bar) at ports 1 and 2.
Flow Tolerances A Flow Rate +/- 2.0 in³/min. (+/- 32 cc/min.) B Flow Rate +/- 2.5 in³/min. (+/- 40 cc/min.) D and F Flow Rates +/- 3.0 in³/min. (+/- 48 cc/min.) H and J Flow Rates +/- 4.0 in³/min. (+/- 64 cc/min.) L Flow Rate +/- 4.5 in³/min. (+/- 72 cc/min.)
Incorporates the Sun floating style construction to minimize the possibility of internal parts binding due to excessive installation torque and/or cavity/cartridge machining variations.
Note: Data may vary by configuration. See CONFIGURATION section.
Cavity
T-8DP
Series
P
Capacity

.5 gpm

2 L/min.

Maximum Operating Pressure

5000 psi

350 bar

Valve Internal Hex Size

5/16 in.

8 mm

Valve Installation Torque

20 - 25 lbf ft

27 - 33 Nm
Additional Resources
[ + ]