Solenoid-operated, rapid advance and feed 流量控制 安装组件
Function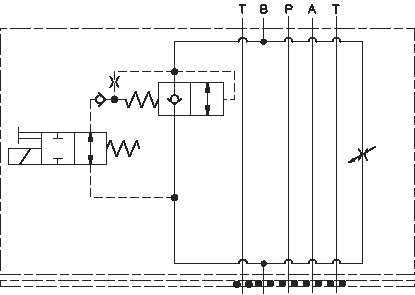 Meter in B Normally Open
Meter out A Normally Open
This assembly consists of a needle valve which is a fully-adjustable orifice used to regulate flow. It is infinitely adjustable from fully closed up to the maximum orifice diameter. It is not pressure-compensated. It may be used as flow controls or as shutoff valves. The rapid or feed rate is selected by a solenoid operated (normally open or closed) 2-way, 2-position valve.
现在可适用于FLeX系列电磁阀。见配置部分,电磁选项中。
阀块类型

叠加式

叠加式

表面

ISO 05

ISO 05

通流能力

12 gpm (.25 inch)

45 L/min. (6,4 mm)

阀块特性

Meter in on A or meter out on B

Meter in on A or meter out on B

Stack Height

2.99 in.

76 mm

Seal Plate Included (see notes)

是

是
Important: Carefully consider the maximum system pressure. The pressure rating of the manifold is dependent on the manifold material, with the port type/size a secondary consideration. Manifolds constructed of aluminum are not rated for pressures higher than 3000 psi (210 bar), regardless of the port type/size specified.
For detailed information regarding the cartridges contained in this assembly, click on the models codes shown in the Included Components tab.