Solenoid-operated, rapid advance and feed contrôle de débit assemblage
Function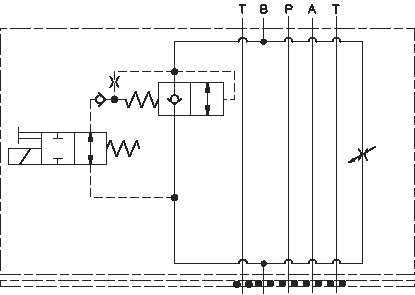 Meter in B Normally Open
Meter out A Normally Open
Caractéristiques techniques
[ + ]
Cet ensemble consiste en un étrangleur à pointeau pleine plage utilisé pour régler le débit. Il est réglable à l'infini, de complètement fermé jusqu'au diamètre maxi. Il n'est pas compensé en pression. Il peut servir à régler un débit ou bien à le fermer comme un robinet. La vitesse rapide ou la vitesse de travail est sélectionnée par une électrovalve 2 voies / 2 positions (normalement ouverte ou normalement fermée).
Now available with FLeX Series solenoid valves. See CONFIGURATION section, SOLENOID DESIGNATION to specify.
Type de Corps

Modulaire

Modulaire

Plan de Pose

Cetop 05

Cetop 05

Capacité

12 gpm (.25 inch)

45 L/min. (6,4 mm)

Caractéristiques du Corps

Régulation sur A en Entrée de Récepteur ou sur B en Sortie de Récepteur

Régulation sur A en Entrée de Récepteur ou sur B en Sortie de Récepteur

Hauteur d'Empilage

2,99 in.

76 mm

Plaque porte joints incluse (voir notes)

Oui

Oui
Important: La pression maximum du système doit être considérée avec une grande attention. La limite de pression maximum à laquelle le bloc peut être utilisé dépend de la matière du bloc, alors que le type et la dimension des orifices sont secondaires. Les blocs forés fabriqués en aluminium ne sont pas prévus pour des pressions supérieures à 210 bar (3000 psi), et ce quelles que soient les types et dimensions des orifices spécifiés.
For detailed information regarding the cartridges contained in this assembly, click on the models codes shown in the Included Components tab.
Ressources Complémentaires
[ + ]
infos pour les Bobines
[ + ]