Normally closed, modulating element with pilot source from port 1
Capacity:
120 gpm
480 L/min.
|
Cavity:
T-19A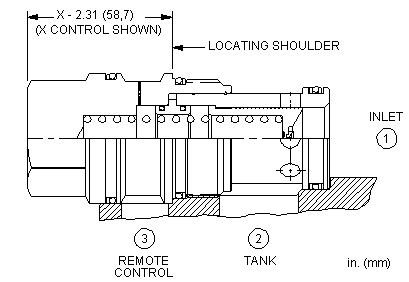 Normally closed modulating elements with an internal orifice between port 1 and port 3 can be used as a main-stage relief valve. The valve can be controlled remotely using a pilot relief or pilot solenoid valve.
A tuning adjustment (models configured with an L control) is available to vary the pressure drop across the compensator to increase/decrease flow within +/-25% of setting.
All ports will accept 5000 psi (350 bar).
Corrosion resistant cartridge valves are intended for use in corrosive environments and are identified by the model code suffix /AP for external stainless steel components, or /LH for external zinc-nickel plated components. See the CONFIGURATION section for all options. For further details, please see the Materials of Construction page located under TECH RESOURCES.
Incorporates the Sun floating style construction to minimize the possibility of internal parts binding due to excessive installation torque and/or cavity/cartridge machining variations.
Note: Data may vary by configuration. See CONFIGURATION section.
Cavity
T-19A
Series
4
Capacity

120 gpm

480 L/min.

Maximum Operating Pressure

5000 psi

350 bar

Control Pilot Flow

15 - 30 in³/min.

0,25 - 0,50 L/min.

Control Orifice Diameter

.021 in.

0,53 mm

Valve Hex Size

1 5/8 in.

41,3 mm

Valve Installation Torque

350 - 375 lbf ft

474 - 508 Nm

Model Weight

2.60 lb

1,20 kg

Seal kit - Cartridge
Buna: 990019007
Seal kit - Cartridge
Polyurethane: 990019002
Seal kit - Cartridge
Viton: 990019006
There are exactly 250 Sun drops in a cubic inch or 15 in a cc.
Only external seals are serviceable. Sun offers replacement seal kits for all cartridge models. The applicable kit part number can be found in the product page's Technical Data table or by using our Cartridge Seal Kit search function located under Accessories. Please note: Converting the external seals from one material to another does not ensure fluid compatibility with that material due to the existence of internal seals within the cartridge.
Additional Resources
[ + ]