T-19A cavity to T-17A cavity converter
Capacity:
|
Cavity:
T-19A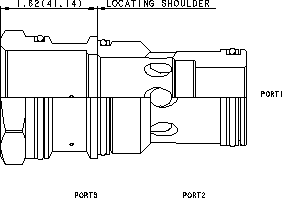 Sun offers a selection of cavity adaptors used to convert one cavity to another. When installed in a Sun T-19A cavity, this adaptor converts to a Sun T-17A cavity.
Note: Data may vary by configuration. See CONFIGURATION section.
Cavity
T-19A
Series
4
Maximum Operating Pressure

3000 psi

210 bar

Valve Hex Size

1.97 in.

50 mm

Valve Installation Torque

350 - 375 lbf ft

474 - 508 Nm

Seal kit - Cartridge
Buna: 990019007
Seal kit - Cartridge
Polyurethane: 990019002
Seal kit - Cartridge
Viton: 990019006
There are exactly 250 Sun drops in a cubic inch or 15 in a cc.
Additional Resources
[ + ]