Free flow nose to side check valve with bypass orifice
Capacity:
30 gpm
120 L/min.
|
Cavity:
T-5A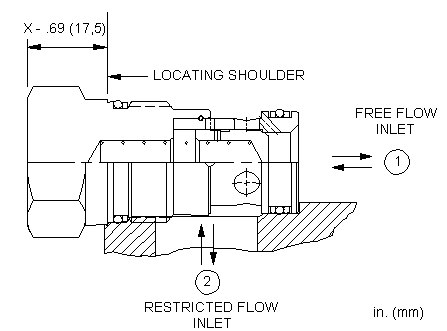 Free-flow, nose-to-side check valves with a bypass orifice allow free flow from port 1 to port 2. A customer specified orifice is included to restrict flow from port 2 to port 1. See technical data below for orifice range.
Two-port check valves share the same cavity for a given frame size, however, pay close attention as flow paths may be in opposite directions.
Will accept 5000 psi (350 bar) at ports 1 and 2.
Valves with the opposite flow path (free flow from 2 to 1) are considered flow controls and may be found listed as fixed orifice, non-pressure compensated flow control valve with reverse flow check.
The customer specified orifice diameter is stamped on one of the cartridge's hex faces.
Corrosion resistant cartridge valves are intended for use in corrosive environments and are identified by the model code suffix /AP or /LH (see CONFIGURATION section). For further details, please see the Materials of Construction page.
Incorporates the Sun floating style construction to minimize the possibility of internal parts binding due to excessive installation torque and/or cavity/cartridge machining variations.
Note: Data may vary by configuration. See CONFIGURATION section.
Cavity
T-5A
Series
2
Capacity

30 gpm

120 L/min.

Maximum Operating Pressure

5000 psi

350 bar

Orifice Range

.016 - .127 in.

0,4 - 3,2 mm

Valve Hex Size

1 1/8 in.

28,6 mm

Valve Installation Torque

45 - 50 lbf ft

61 - 68 Nm

Seal kit - Cartridge
Buna: 990203007
Seal kit - Cartridge
Viton: 990203006
Additional Resources
[ + ]