Single ball shuttle valve, 3000 psi (210 bar) - common cavity
Capacity:
8 gpm
30 L/min.
|
Cavity:
SC-08-03
The single ball shuttle connects the higher of two work ports to the signal or common port. The signal is sensed at port 2.
Shuttle cartridges feature hardened steel balls and seats for excellent wear characteristics and contamination tolerance.
The single ball allows for the decay of the pressure signal when both load ports drop to a lower pressure.
All ports are rated to a maximum operating pressure of 3000 psi (210 bar).
The cartridge installation torque of 22 lbf ft (30 Nm) should be respected for best performance.
Note: Data may vary by configuration. See CONFIGURATION section.
Cavity
SC-08-03
Series
0C
Capacity

8 gpm

30 L/min.

Maximum Operating Pressure

3000 psi

210 bar

Typical Valve Leakage at 110 SUS (24cSt)

1 drops/min.@3000 psi

1 drops/min.@3000 psi

Valve Hex Size

7/8 in.

22,2 mm

Valve Installation Torque

21 - 23 lbf ft

28 - 31 Nm

Model Weight

.20 lb

0,10 kg

Seal kit - Cartridge
Buna: 99C083007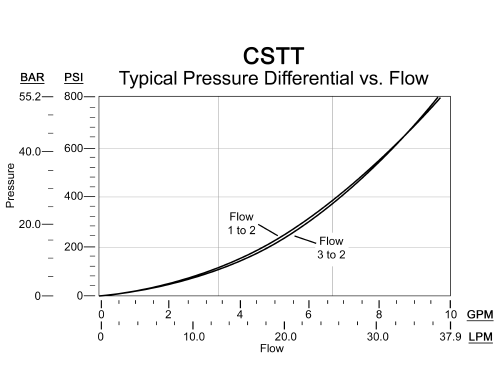 Additional Resources
[ + ]