Free flow nose to side check valve - common cavity
Capacity:
16 gpm
60 L/min.
|
Cavity:
SC-10-02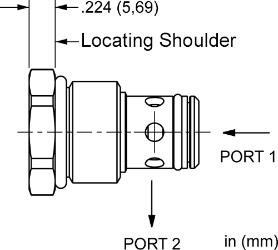 Free-flow, nose-to-side check valves are on/off circuit components that allow free flow from the inlet (port 1) to the outlet (port 2) and block flow in the opposite direction.
This valve will accept 3600 psi (250 bar) at ports 1 and 2.
This Check valve offers an extremely low leakage rate with a maximum leakage of less than 5 drops per minute (0,33 cc/min).
All configurations of this valve include zinc plating as standard.
All configurations of this valve provide 192 hours of corrosion resistance.
Note: Data may vary by configuration. See CONFIGURATION section.
Cavity
SC-10-02
Series
1C
Capacity

16 gpm

60 L/min.

Maximum Operating Pressure

3600 psi

250 bar

Maximum Valve Leakage at 110 SUS (24 cSt)

5 drops/min.

0,3 cc/min.

Valve Hex Size

1.00 in.

25,4 mm

Valve Installation Torque

25 - 30 lbf ft

35 - 40 Nm

Model Weight

.20 lb

0,10 kg

Seal kit - Cartridge
Buna: 99C102007
Seal kit - Cartridge
Viton: 99C102006
Additional Resources
[ + ]